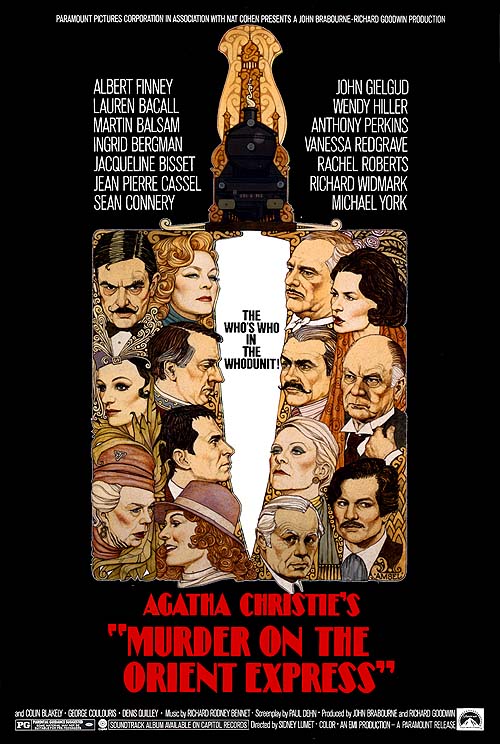 Going old school back to 1974 with Sidney Lumet's adaptation of Agatha Christie's
Murder on the Orient Express
. Lumet managed an all star cast including Sean Connery, Ingrid Berman, Lauren Bacall, Martin Balsam, Jacqueline Bisset, Vanessa Redgrave (who was hot once?), Michael York, Richard Widmark, Albert Finney, and Anthony Perkins. Each plays a character that winds up as passengers on the Orient Express when a murder occurs. Albert Finney is Poirot - a detective for hire that finds himself asked to investigate the murder by his friend played by Martin Balsam.
Essentially this is a whodunit for the last hour plus. In the movie intro you get a sad story of a kidnapping gone wrong that would seem to figure into the movie's plot. As Poirot starts his inqury you begin to understand that previous crime even better. The actors are universally good except for Perkins and Bergman - which is strange coz Ingrid picked up an Oscar for her role.
Lumet is again quite simple in his presentation of the story. He never does anything too fancy with the shots. Lumet's technique is usually to cast right and then get the hell out of the way. This way of thinking works well here where the story is really the director. The climax isn't anything too mindblowing, but it does throw you something different.
The Orient Express sputters a little out of the gate, but once the murder happens things come to life. Nothing revelatory here, but a excellent chance to see so many great actors together.
70/100