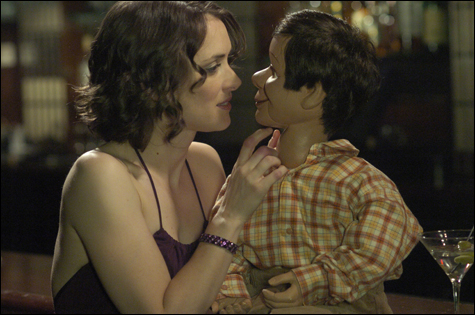 If you are in the mood for a batshit crazy movie then look to
The Ten
. Written by the fellows who did The State and Stella,
The Ten
brings together 10 stories veeery loosely based on the The Ten Commandments. And the best part, well they got Paul Rudd to introduce each one. All of the stories have interlocking characters - mostly in unexpected ways.
This is the kind of film where if most of the stories work, then you enjoy it. Not every single one did work, but I like 8 out of the 10. My favorite being when co-writer Ken Marino is sent to prison following a death of one of his patients. Inside Marino's character is quickly claimed as a bitch by Big Buster only to fall in love with The Daily Show's Rob Corddry. I promise you it is hilarious.
Two other stories that were solid included Liev Schreiber (?) as a man trying to one up a neighbor to bizarre proportions and Winona Ryder (who is in two stories) who falls in love with a dummy - the puppet kind. Ryder goes all out and I was disturbed by her decication, but yet oddly turned on since it involved her in very little clothing... hmmm. When did she buy new breasts? Anyone?
Anyway,
The Ten
is a quick, little movie. If one story bores you, it is quickly over and you move on to the next one. Look for a HILARIOUS cameo from Oliver Platt. I can almost forgive him for the Ice Harvest.
80/100